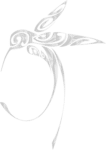 I am often drawn to extra-musical things to generate motivic and structural ideas for a piece. I have loved this poem for many years and when the opportunity arose to compose a piece for solo organ, it immediately came to mind. The motion – "hurl and gliding," the structure, and the idea of a masterful, majestic beast, vulnerable to falling, were all central ideas in the process of composing.
THE WINDHOVER
I caught this morning morning's minion, king-
dom of daylight's dauphin, dapple-dawn-drawn Falcon, in his riding
Of the rolling level underneath him steady air, and striding
High there, how he rung upon the rein of a wimpling wing
In his ecstasy! then off, off forth on swing,
As a skate's heel sweeps smooth on a bow-bend: the hurl and gliding
Rebuffed the big wind. My heart in hiding
Stirred for a bird, – the achieve of, the mastery of the thing!
Brute beauty and valour and act, oh, air, pride, plume, here
Buckle! And the fire that breaks from thee then, a billion
Times told lovelier, more dangerous, O my chevalier!
No wonder of it: shéer plód makes plough down sillion
Shine, and blue-bleak embers, ah my dear,
Fall, gall themselves, and gash gold-vermilion.
– Gerard Manley Hopkins
Commissioned by the American Guild of Organists, Twin Cities Chapter
Premiered: November 10, 2003, Minneapolis by Dean Billmeyer
Audio Credits: Live performance by Stephen Self
Year Composed: 2003
Duration: 07:15
Listen while perusing the score:
Additional information
| | |
| --- | --- |
| Choose Format | Downloadable PDF, Printed Score |