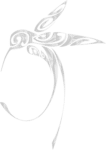 When Donald Nally asked "are there any texts you've been dying to set?" I immediately thought of Passings by Holly J. Hughes. Passings was out on a display table at a favorite local bookstore. I picked it up because there was a feather on the cover – and because of the title. I had a feeling I knew what the subject matter would be. When I read, I was drawn in by Holly's masterful poetry. Each of the 15 poems in her book lovingly tell the story of birds who are highly endangered, extinct, or believed to be gone. This book sat on a table in my living room for a couple of years. I thought maybe, someday, the opportunity would come for me to set some of these gems, and it did in the form of a commission to compose a 30 minute work for The Crossing.
Donald said "I like long pieces" and so, I chose four of Holly's poems to set – "Passenger Pigeon," "Carolina Parakeet," "Eskimo Curlew," and "Ivory-Billed Woodpecker." Each of these birds lived in or migrated through or to North America. In addition to her poems, I found treasures in the Forward of Passings ("Take note. These birds are still singing to us. We must listen.") and in the books she references; such as Hope is the Thing With Feathers by Christopher Cokinos.
Having the space of 30 minutes was a luxury. I had room to play with form and to fashion a piece using Holly's poems as the "pillars" of four musical sequences – creating a ceremony honoring each of the four birds individually. The piece begins with a brief prelude: setting Holly's words from her Forward. Then, each sequence begins with an eyewitness account of what it was like to experience these birds firsthand, followed by what I call "The Naming," which names each bird with the formal Latin and various "nicknames" given to each bird. "The Naming" is then followed by Holly's pillar poem.
For about a year, I was immersed in these poems and books by naturalists, ornithologists. I reread Silent Spring by Rachel Carson and articles about our ailing earth. In the course of composing this piece, I fell in love with four species, now gone. Each setting was an emotional sequence of falling in love followed by grief.
Composing Spectral Spirits was as much a study of humans as it was of birds. I found myself asking how human beings managed to destroy these populations. In some cases, populations were brought back from the brink of extinction only to be brought down again. False sense of security, perhaps. Human beings take for granted, forget. Why, if we see something alive, vibrant, with striking color, do we want to possess it to the point of oblivion? Why is it permissible to destroy nature in the name of "progress" or financial gain? In the end: we all lose.
A part of me grieves every day for the state of our planet earth and her creatures. Composing Spectral Spirits was a gift that gave me a chance to funnel this grief. It also allowed me to celebrate the creatures we've lost and work to preserve and nurture the ones that still appear in the treetops.
This work was commissioned for The Crossing – Donald Nally, conductor – with generous support provided by John Hawthorn and Danielle Macbeth.
Duration: 30:00
Type: Choral
Voicing or Instrumentation: SATB divisi a cappella with S, A, T, B soli
Audio Credits: The Crossing; Donald Nally, conductor//Born//Navona Records 2022
Text Author/Source: Holly J. Hughes, Additional text by: Henry David Thoreau, Gert Goebel, Christopher Cokinos, Lucien M. Turner, Paul A. Johnsgard, and Alexander Wilson
Year Composed: 2019
Grammy Award: 2023
Listen as you peruse the score:
Spectral Spirits Perusal Score February 2020
Additional information
| | |
| --- | --- |
| Choose format | Downloadable PDF, Printed Score |