From the Wingbone of a Swan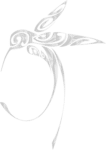 From the Wingbone of a Swan
I believe that possessing a musical sense is inherent to being human, and that human beings, from their very beginnings, were musical before they expressed themselves with formal language. We embody counterpoint in the most basic way by virtue of simultaneous voice and heartbeat.
Thus the first movement: "Prelude to Speech." The poem itself is only a portion of what the listener hears. I use vocalisms and simple "calls" that ultimately lead to the words that are the poem. The cello and drum accompany this movement. I chose the cello because it is the instrument that is most like the human voice. The "shape" of the movement is a gradual transition from pure sound and melody to language – a discovery of speech through music.
Flowing directly out of newly-found speech is "Source." When I gave a lecture about the origins of music at Delft University, I made reference to an "underground river." To me, music is born from this so-called river. The river is the source that is tapped and from it comes music that is as basic as water is to human beings. It IS life blood. And it is always there – now – then. It is a constant that connects us all.
Finally, I believe that instruments (such as a flute) are extensions of the human voice. We make them so that we can "sing" in ways beyond the physical constraints of the human voice – so that we can sing in all manner of timbers, dynamics, and ranges. I was inspired by an article entitled "Magic Flute: Primal Find Sings of Music's Mystery" by Robert Lee Holtz, which appeared in a 2008 edition of the Wall Street Journal. The article talks about "the discovery of the world's oldest musical instrument – a 35,000 year-old flute made from a (swan's) wing bone." I thought, what a beautiful thing – a flute made from the wingbone of a swan. In this movement, I wanted to conjure imagery of this ancient instrument, and again, draw attention to music as a thread that connects us as human beings in ancient times and in the present moment.
As a way of conveying progression, I add instruments movement by movement. The cello and drum accompany the first. In the second movement, marimba is added. The sound of the marimba adds a texture that conjures water and flow. And in the third, the flute joins the texture. It is the "Breath of Silver," the "Ribbon of Light."
Commissioned and premiered by the Valborg Choir on the occasion of its 20th anniversary.
Type: Choral
Voicing or Instrumentation: SATB Chorus with flute, cello, marimba, and drum
Audio Credits: The Crossing, Donald Nally-Conductor, Ted Babcock-percussion, Arlen Hlusko-cello, Mimi Stillman-flute
Text Author/Source: Edie Hill and Tim O' Brien
Year Composed: 2013
Duration: 19:00
Listen while perusing the score:
Perusal Score From the Wingbone of a Swan
Additional information
| | |
| --- | --- |
| Choose Format | Choral Score PDF Download, Choral Score Printed Score, Packet of Parts PDF Download, Packet of Parts Printed Score |